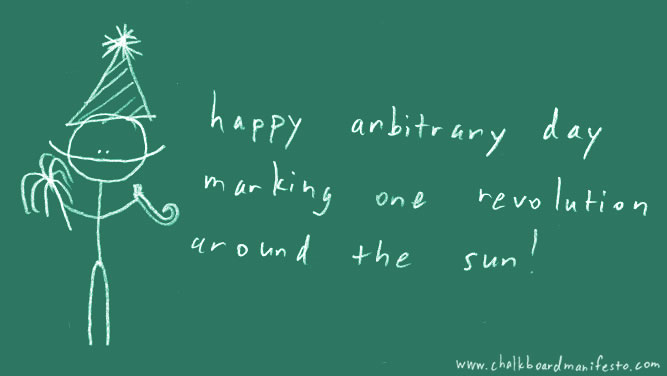 RANDOM:
Stayed single the whole year?
Single-ish. I was seeing someone for about six weeks in April/May timeframe.
Were involved in something you'll never forget?
Absolutely ... several things!
Dyed your hair?
No.
Came close to losing your life?
Yep, but we're all day-to-day.
Saw one of your favorite bands live?
Many of them. And often.
FRIENDS:
Did you meet any new friends this year?
Absolutely
Did you hate anyone?
No. When you hate someone you give them a piece of you that you never get back.
Do you have any regrets when it comes to your friendships?
Nope. Actually reconnected with a couple of great people that were previous regrets.
BIRTHDAY:
Did you have a cake?
No
Did you have a party?
No
Did you get any presents?
A drawing from my daughter. And a dragonfly she made. And that's better than presents.
YOU:
Did you change at all this year?
A few things. For the better.
Did you change your style?
I have style??
Were you in school?
School of life
Did you get good grades?
I'm still living.
Did you have a job?
Worked one day in 2009 for the State of Ohio, was unemployed for a month, then rehired by for the job I had before I went to work for the state in 2008.
Did you drive?
Yes!
Did you own a car?
Yes.
Did anyone close to you give birth?
Probably
Would you change anything about yourself now?
Can't change what's happened. Why worry about it?
MORE:
Was 2009 a good year?
2009 was a decent year.
Do you think 2010 will top 2009?
Yep
Kissed in the rain?
Yes
Had your heart broken?
Not broken. Bruised maybe.
Done something you've regretted?
No ... I don't regret, I evolve.
Painted a picture?
No
Wrote a poem?
Yes
Ran a mile?
No
Visited a foreign country?
No.
Cut in a line of waiting people?
HA HA HA ... yes. Was Cinco de Mayo, in Cincinnati. Line at the restaurant was 2.5 hours ... we stood there for 10 minutes then answered "Sorry, we're the Wallaces" at the "Last Call for the Wallace Party of Two" ...
Told someone you were busy when you weren't?
Ask me about my crippling social anxiety
Cooked a disastrous meal?
No.
Lied about how old you were?
No.
Disappointed someone close?
Probably.
Hid a secret?
Everyone has secrets
Pretended to be happy?
Nope.
Slept under the stars?
Nope.
Kept your new years resolution?
Don't make them.
Forgot your new years resolution?
Don't make them.
Pretended to be sick?
Sick days are vacation days, too
Lost something expensive?
No.
Learned something new about yourself?
Absolutely
Stayed up til sunrise?
Yes.
Cried over the silliest thing?
No
Spent most of your money on food?
Depends on your definition of food.
Had a fist fight?
No!
Gotten sick?
Yes.
Liked more than 5 people at the same time?
No.